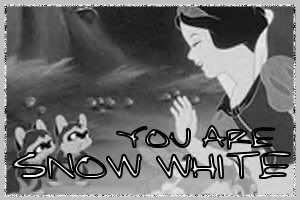 Pure and trusting. You are a gentle soul who can get along with just about anyone. Everyone you meet instantly falls in love with you. How can they resist? You have a pure, lovable nature that's irresistable. Just don't trust everyone who comes across your path.
Which Disney Princess Are You?
I tried this quiz yesterday (inspired by
kaktiny
). I answered accordingly and the result was...
I AM SNOW WHITE
!
Well, of course it's not physically. My charaters showed so, I guess. Well, if I answered differently, I'll get a different character kan.. ;).
Ini saja suka-suka tau. Takde kena mengena dengan yang hidup atau mati. Anyway, who would want to believe I'm Snow White? Nobody!